Dance with History 1600 to 1800

1603 Elizabeth I

"

Queen Elizabeth

herself was...

an eager dancer

who still performed the vigorous galliard at the age of seventy."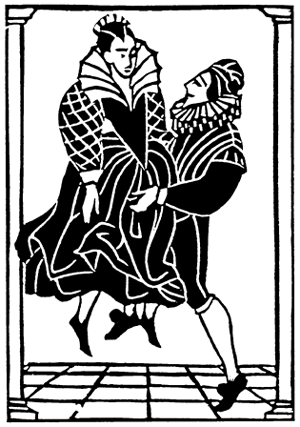 Woodcut taken from an oil painting hanging in Penshurst Palace depicting the Earl of Leicester dancing

La Volta

with Queen Elizabeth I.



1651
The English Dancing Master




by John Playford



"[Dance] This Art, Anciently commended as Excellent for Recreation, after more serious Studies, making the body active and strong, graceful in deportment, and a quality very much beseeming a Gentleman"



1657 Oliver Cromwell dances till dawn

"During the Commonwealth (1649-1660) ... private dancing was consider an acceptable activity, as illustrated by the fact that the Lord Protector Oliver Cromwell himself danced till dawn at a ball to celebrate his daughter's wedding."


"The wedding feast [for Cromwell's daughter] scaled new heights of magnificence, not only were there forty-eight violins and fifty trumpets, but also "mixt dancing" until five o'clock in the morning"



Antonia Fraser "Cromwell - our chief of men" (1973)




1774 The Pleasure of Dancing
"If this passion for dancing is a fault, I will gladly confess I know of nothing I value more. And if there is something on my mind, I pound out a quadrille and everything immediately is all right again."



Johann Wolfgang von Goethe "The Suffering of Young Werther"

Source

Thompson